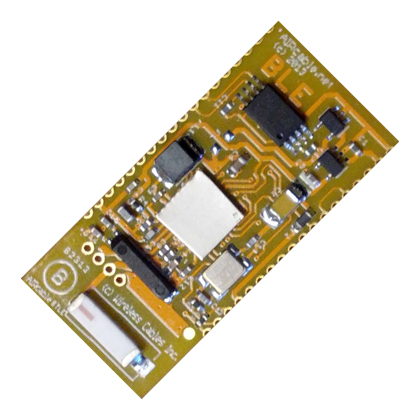 AIRcable BLE
---
Bluetooth Low Energy and SmartMesh Module with FCC
---
30-day money-back guarantee
Free Shipping in U.S.
Buy now, get in 2 days

16MHz Dual Core. <1µA Low Power Mode.
FULLY CERTIFIED
Based on the dual core CSR1010 it is a single mode Bluetooth 4.1 module, pin compatible with our standard Bluetooth SMD modules. Main feature is the low power consumption starting at 1mA active and 800nA in deep sleep mode, to wake up with the click of a button or timer. This product can give you years of battery life on a coin cell.
This module has Modular FCC certification SQCBLE1K and it has Bluetooth Qualified Design Listing B014358 avoiding expensive re-certification for your own design.
A generic firmware that implements CENTRAL, PERIPHERAL, iBeacon, Smart Mesh and data logger functions are standard, saving you development time.