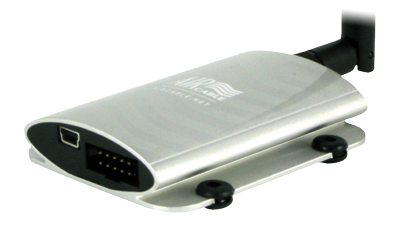 AIRcable Industrial XR4
---
Bluetooth Long Range Relay
---
30-day money-back guarantee
Free Shipping in U.S.
Buy now, get in 2 days
Range Extender
Long range Bluetooth-to-Serial communication, even if you only have a smartphone by factor 10
Connect two for  2km serial cable replacement
Data Relay
relays data between two bluetooth serial connections, extends the range of 10m  Devices to hundreds of meters
use it between your smartphone and instrument
Super Scanner
Discover Bluetooth devices at great distances
find cell phones and report the signal strength in real time
use it for traffic flow analysis
The AIRcable Industrial XR4 is an intelligent, long-range Bluetooth® designed for long-range RS232 cable replacement, industrial wireless sensor interfaces, SPP data relaying and logging.
The AIRcable Industrial XR4 is based on our AIRcable SMD with file system, BASIC interpreter and operating system. It is simple to use, reliable, can be customize, and is compatible with all Bluetooth® wireless devices. The AIRcable Industrial XR4 can be programmed over the air because the application software is embedded in the device. The BASIC execution engine performs operations in both connection mode and in autonomous mode.

This new generation of AIRcable Industrial XR4 is enclosed in an aluminum case. It has a 450mAh rechargeable Li-ion battery  and a universal USB charger for wired and solar power options. It also has a persistent file system as well as a SD card for FAT file system data storage, which of course is available wirelessly. 
AIRcable Relay

Extend the range of your sensor, instrument, GPS etc with the AIRcable Industrial XR. It manages two SPP connections at a time.
RS232 Interface
Charge the batteries through pin9
DTR/DSR
Freely available for sense and control
RTS/CTS
Automatic hardware handshake for reliable data
BASIC code
Runs BASIC applications
SPP
Handles two simultaneous serial port profile connections and copy data between master and slave
Power Control
Advanced power control, low power modes